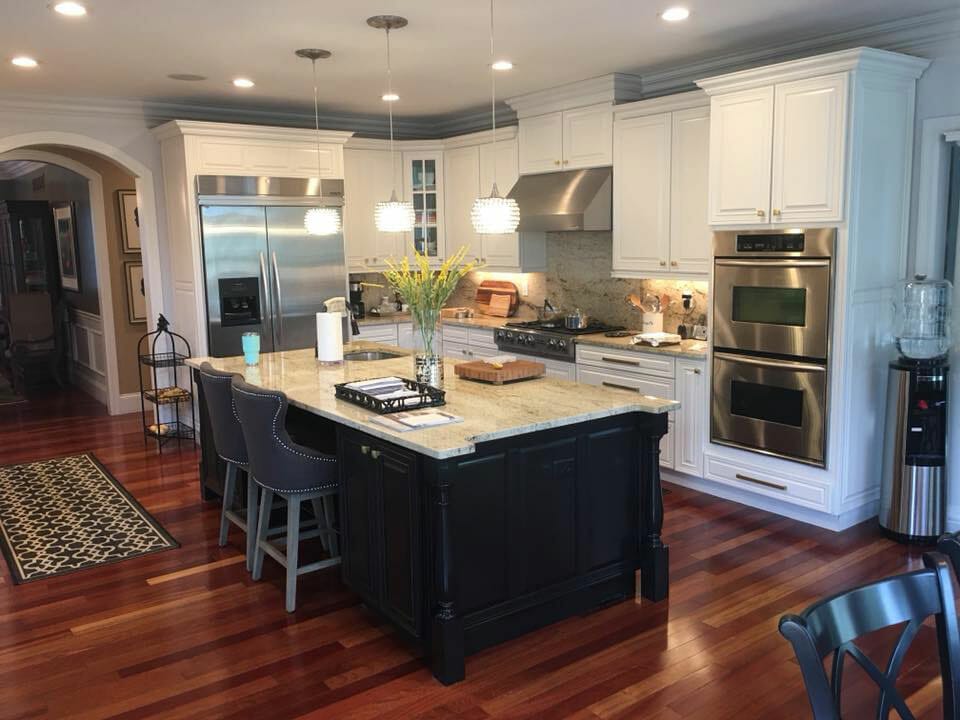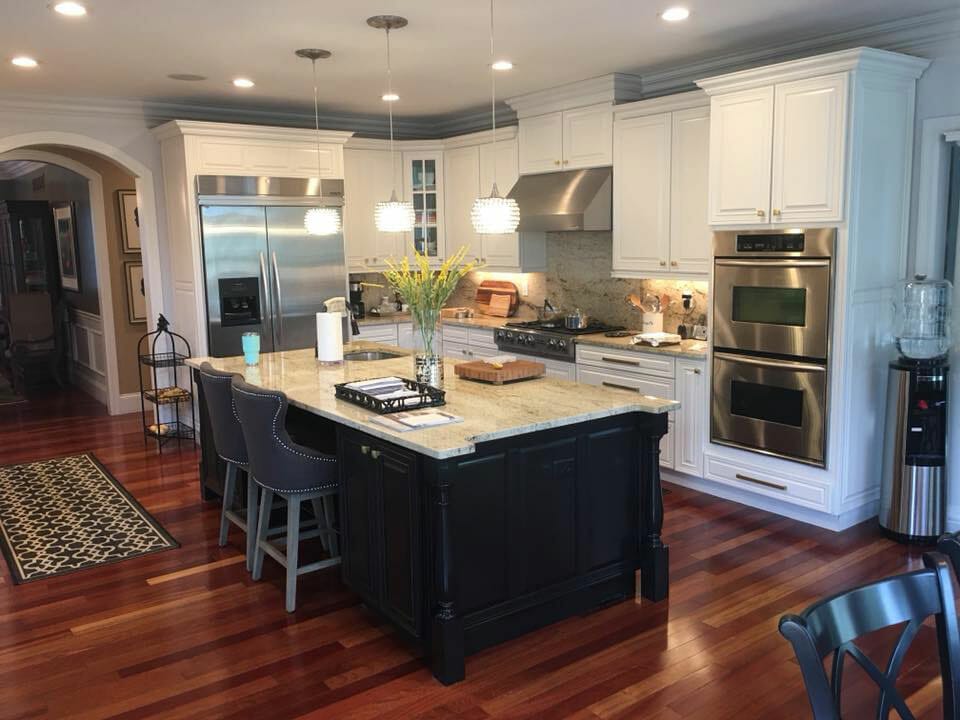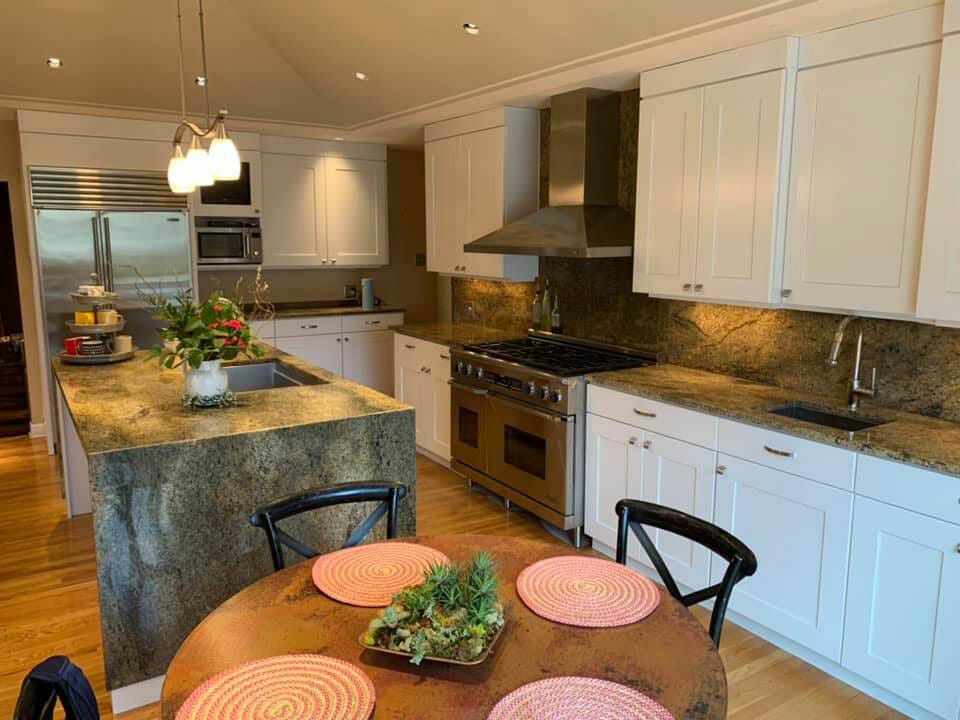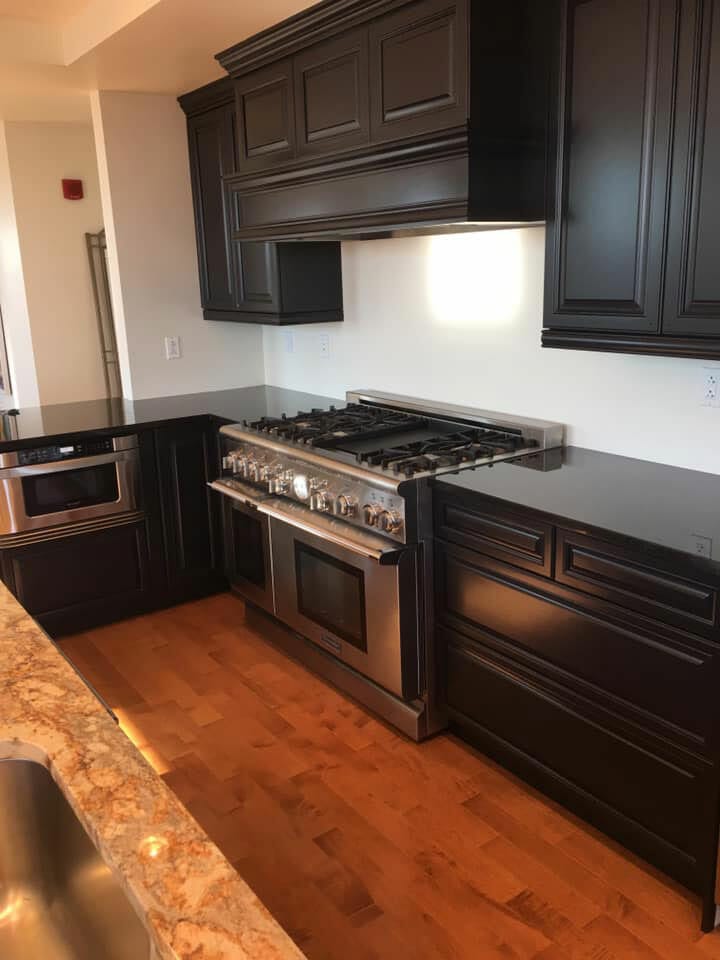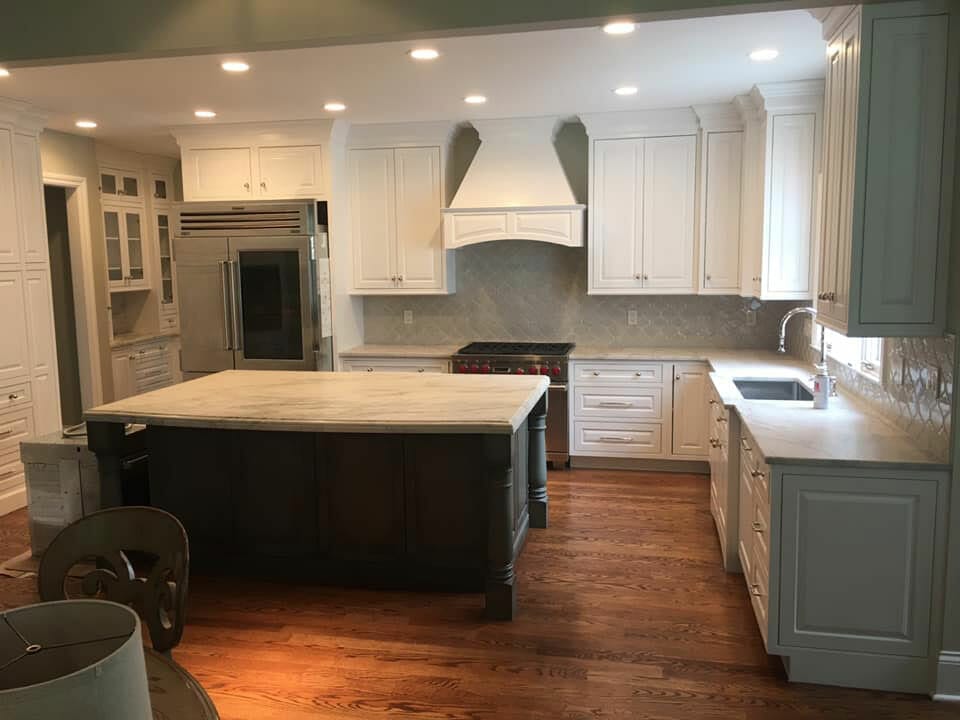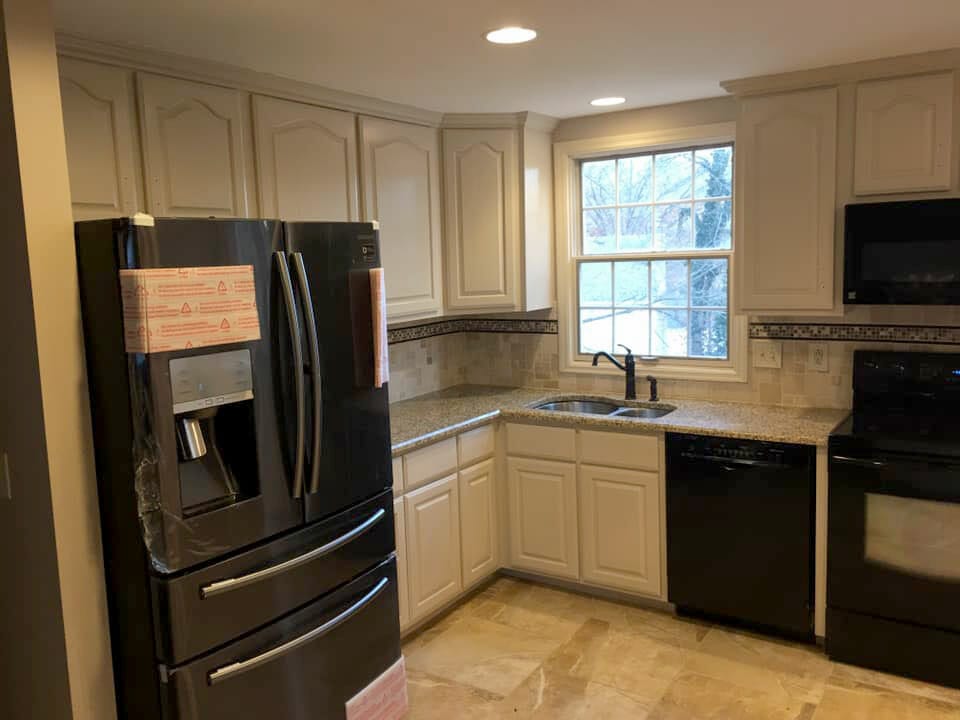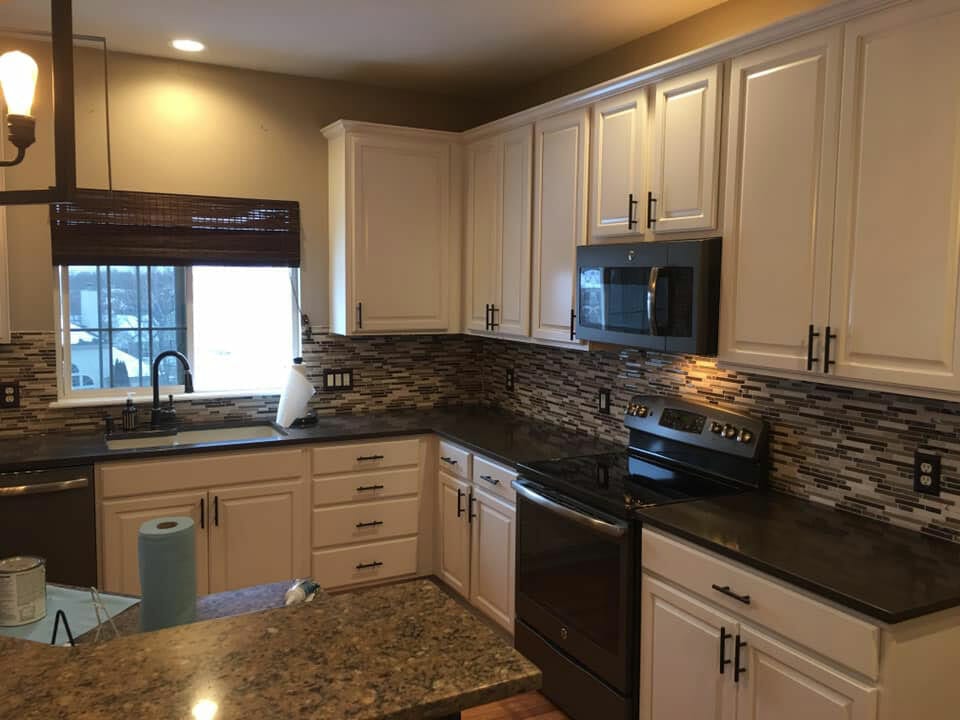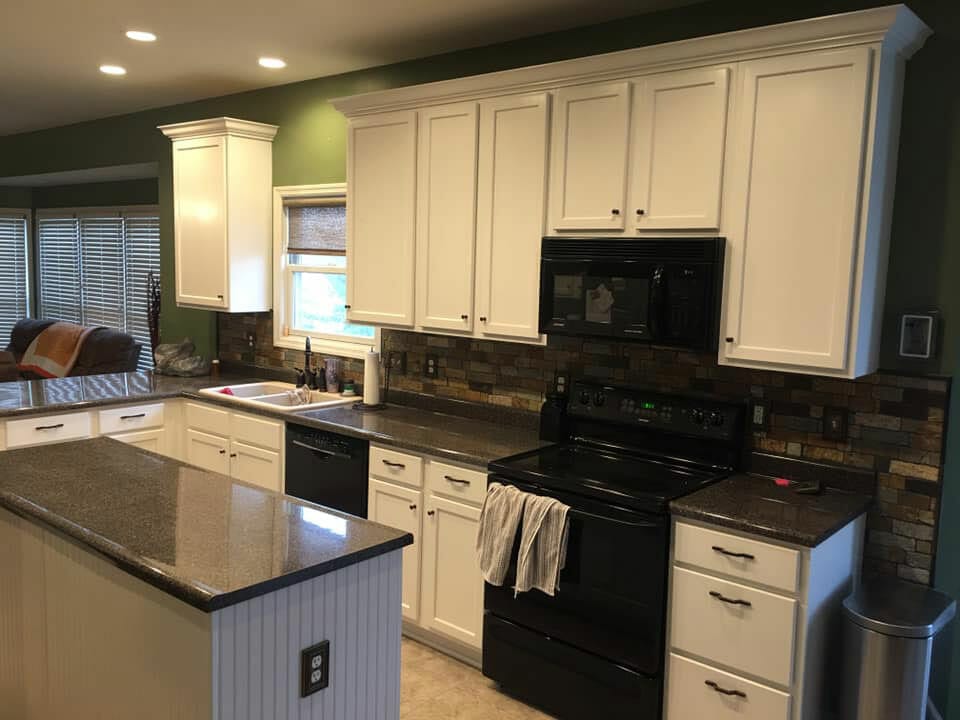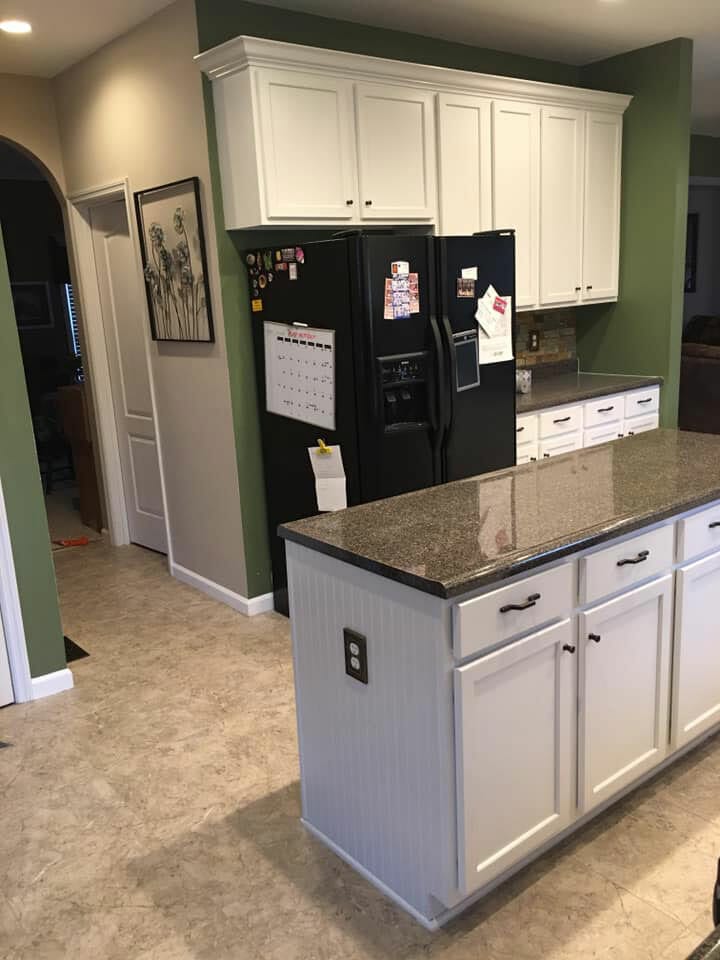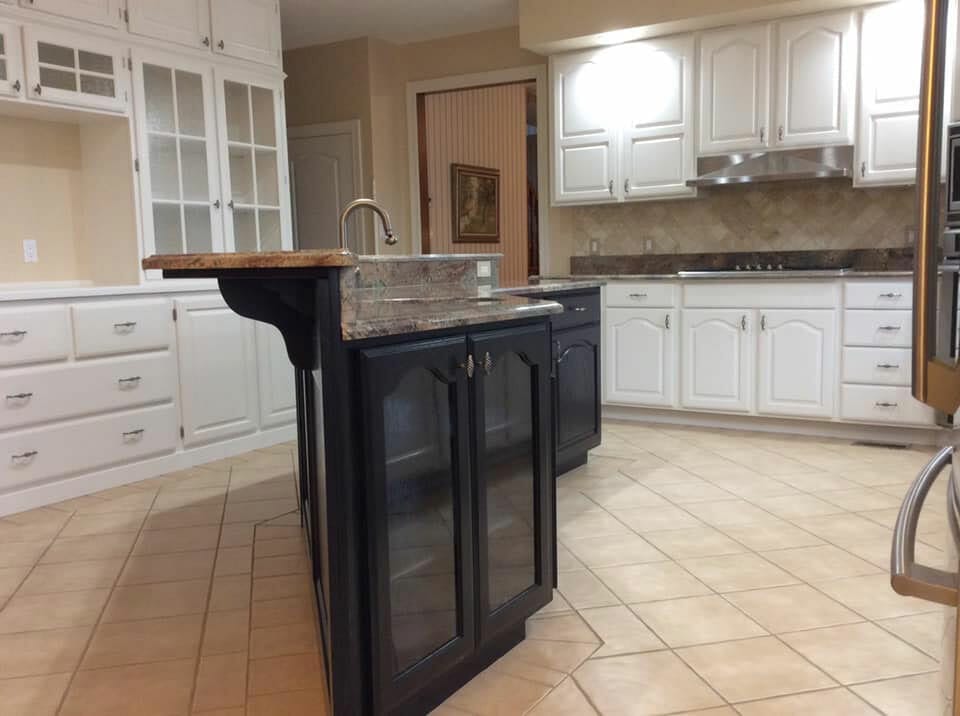 Kitchens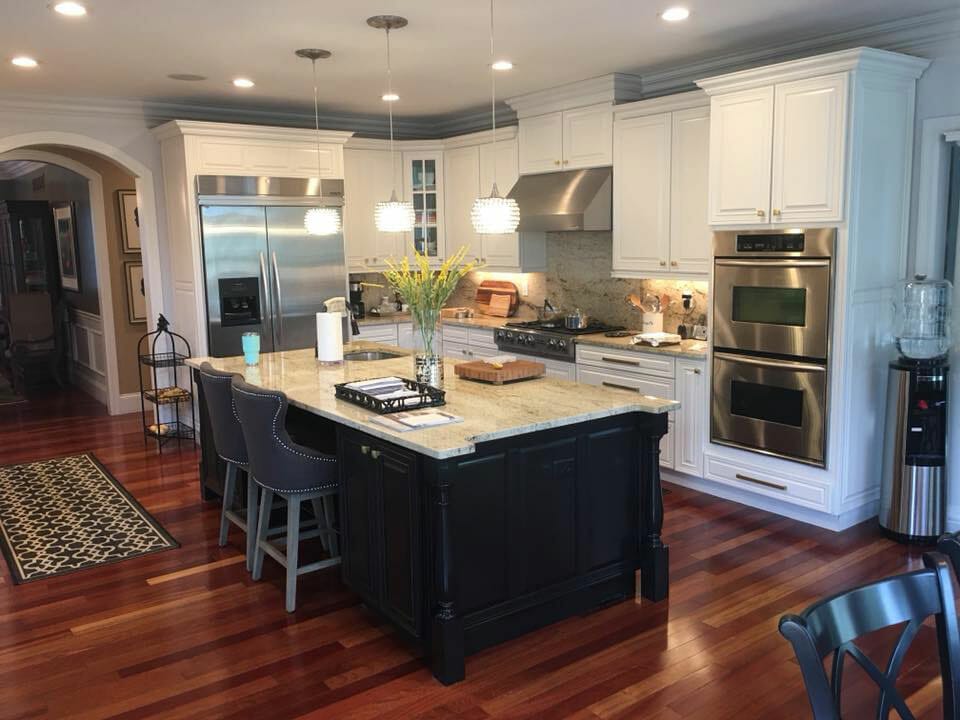 Kitchens1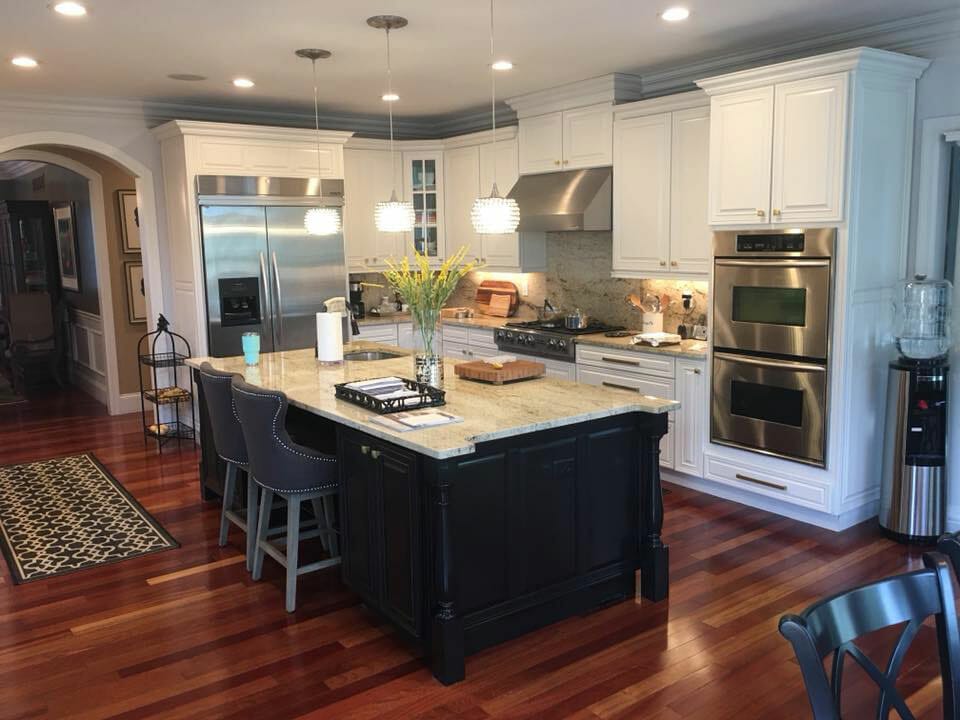 kitchens2-new
kitchens2 - new2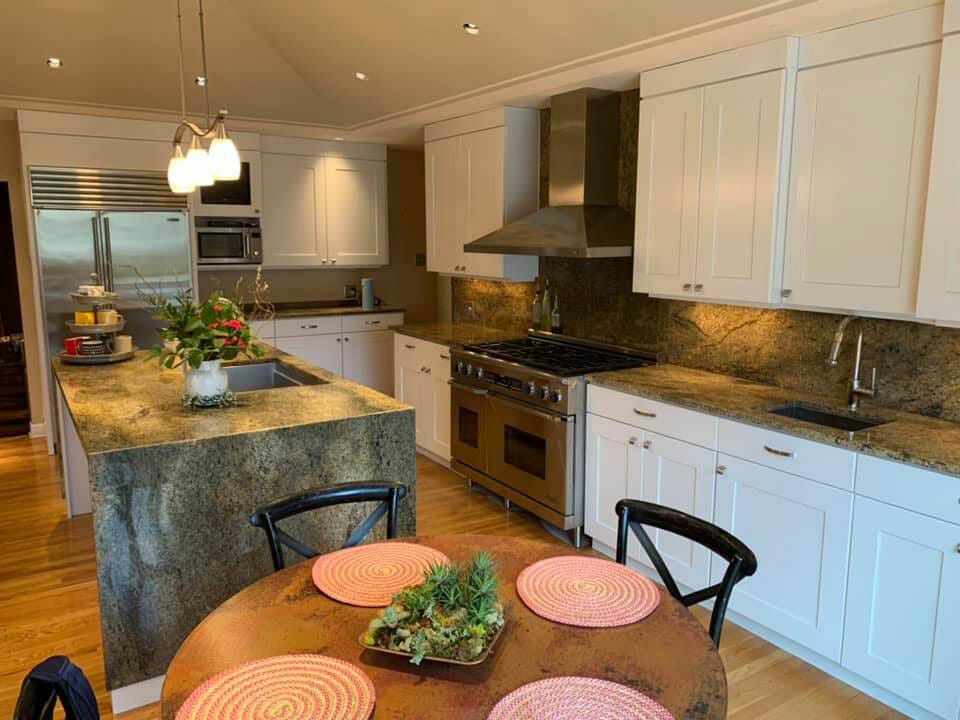 kitchens2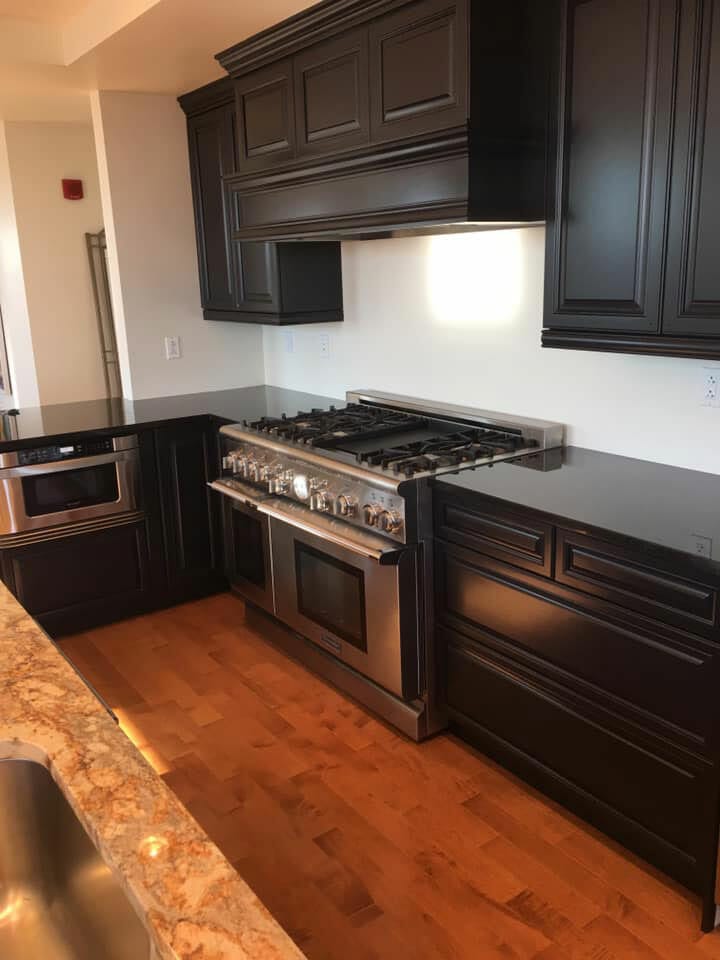 kitchens1
kitchens4
kitchens5
kitchens6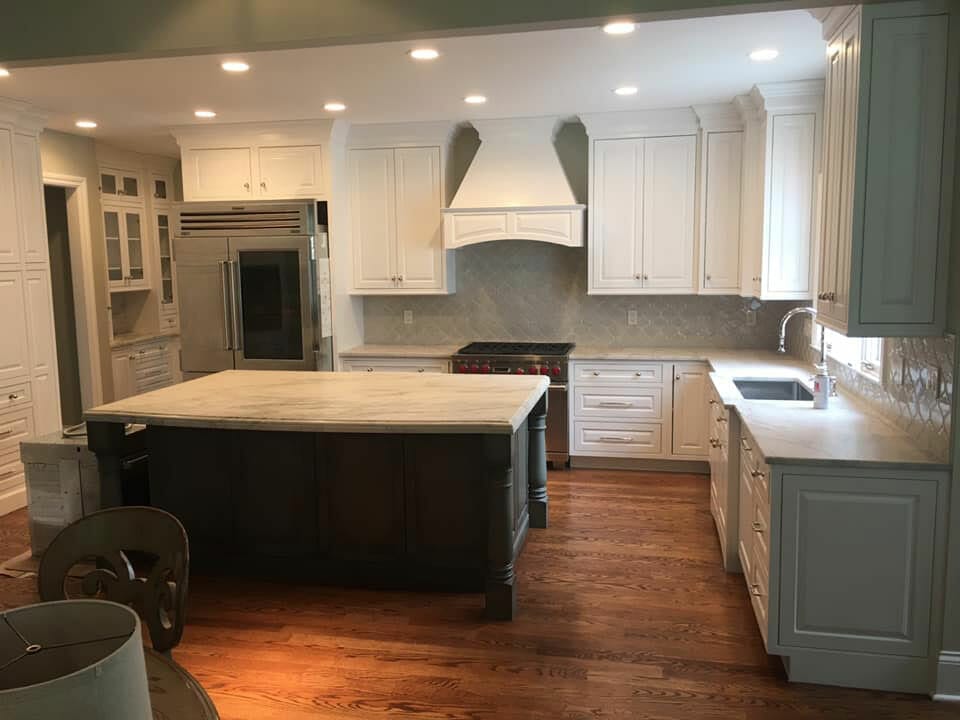 kitchens7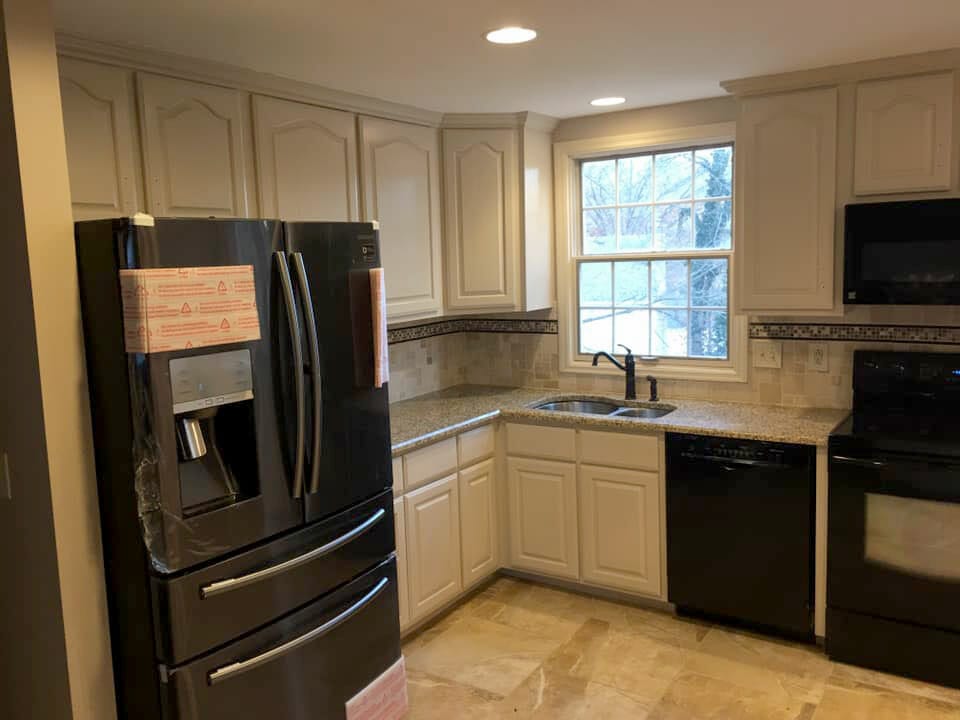 kitchens10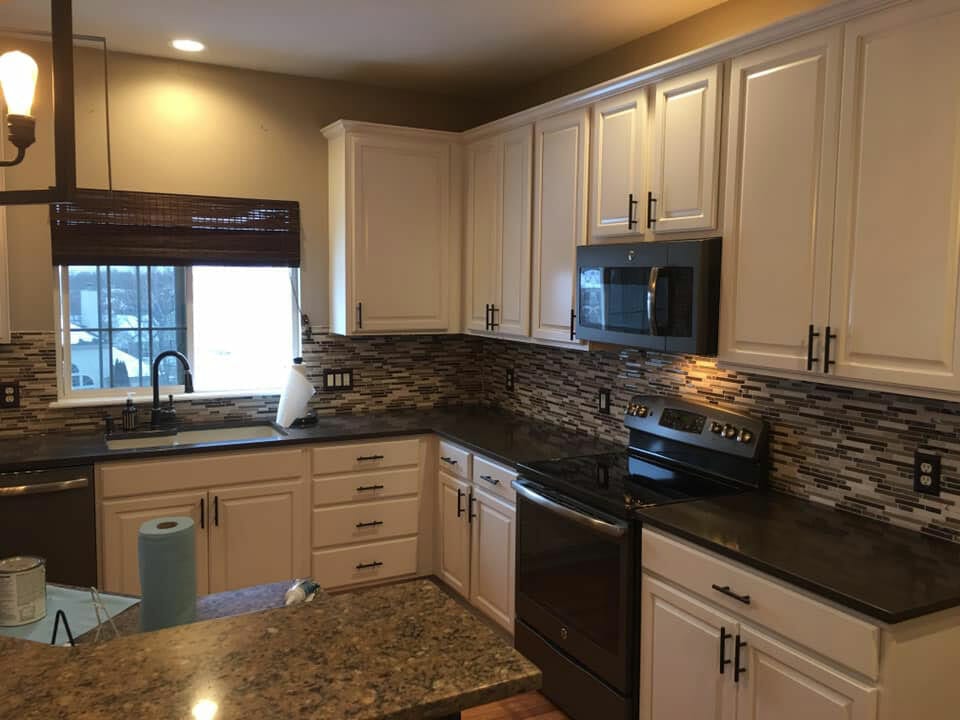 kitchens9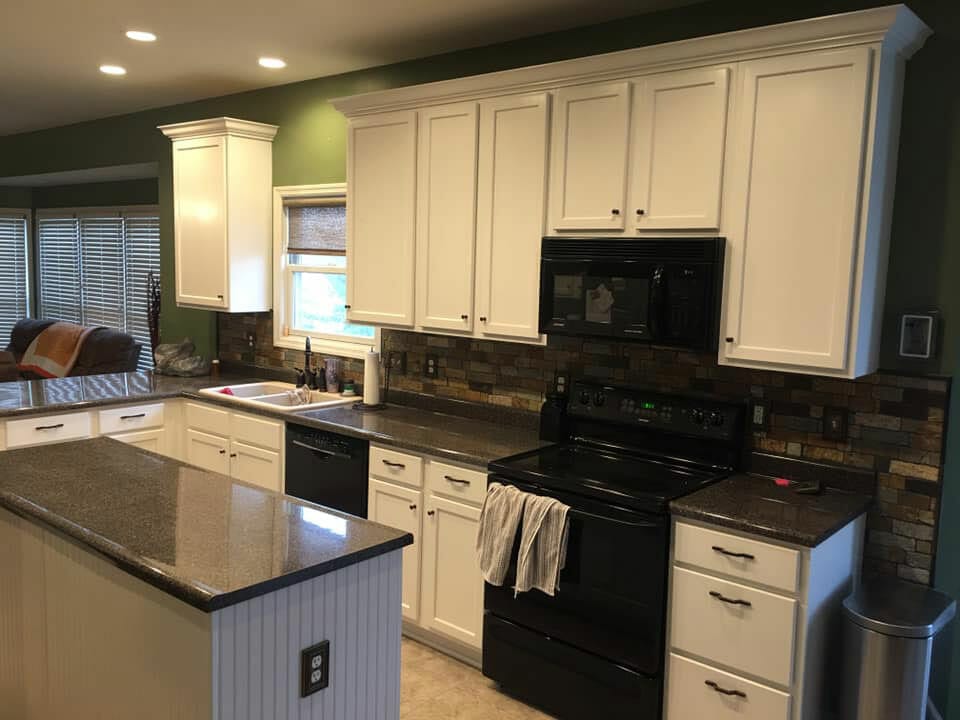 kitchens8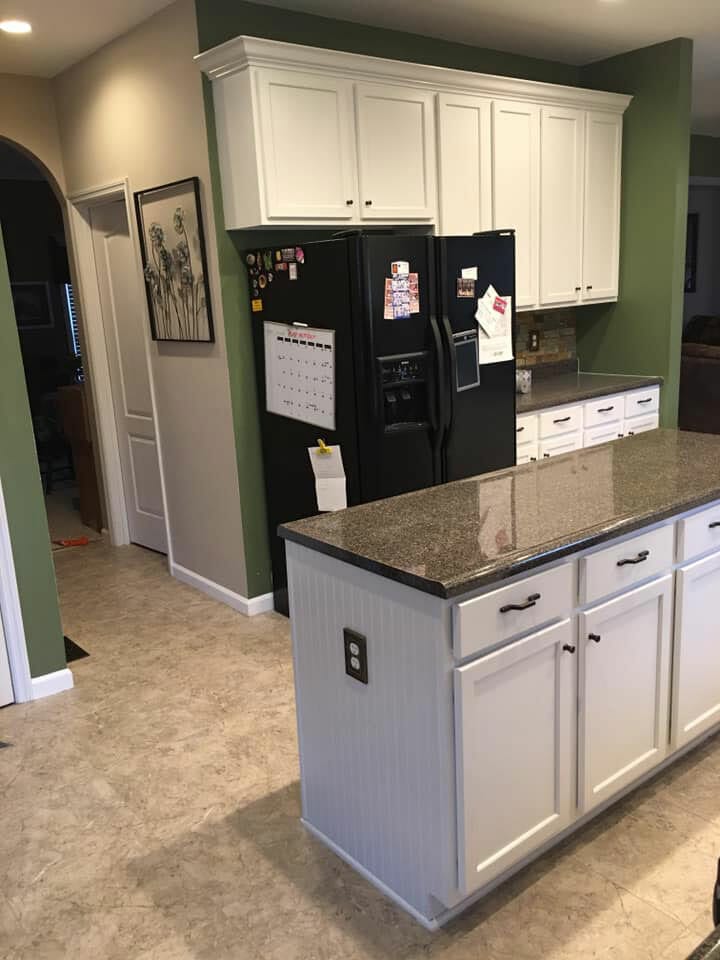 kitchens13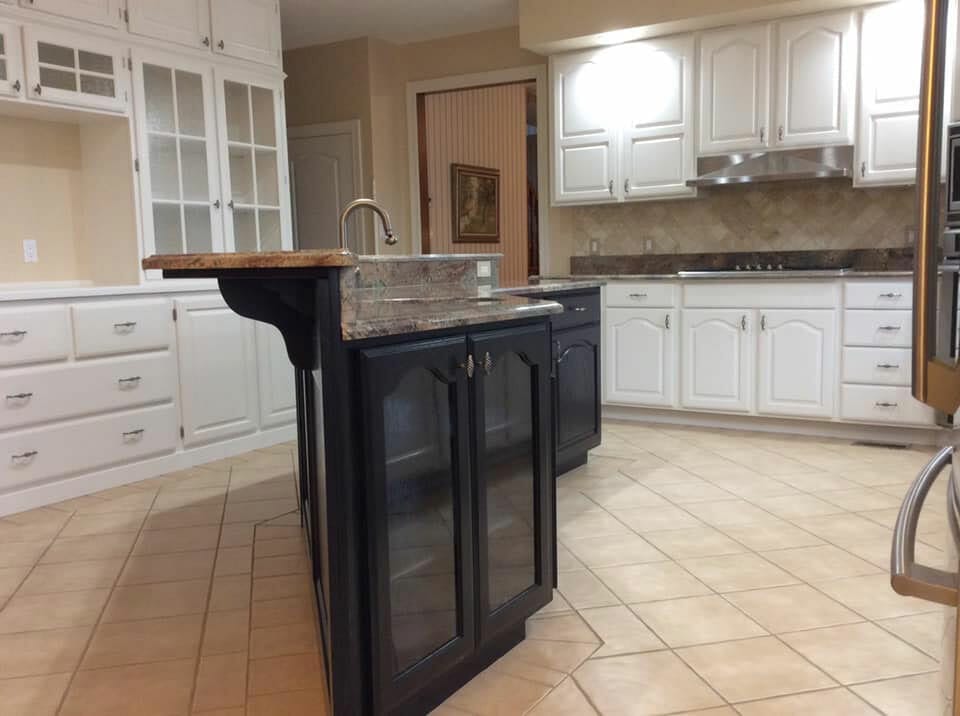 kitchens11
kitchens12
KITCHEN CABINET REFINISHING & KITCHEN REMODELING
Are you tired of the builder's grade honey-oak cabinets?  Or do you just want a change?  Here at Richie's Refinishing we can do a complete overhaul or just a touch-up and repair.  We have many colors and trim options available.
"Customize your kitchen to fit your budget"
Call to schedule an appointment today.
Kitchen Refinishing Case Studies with Before & After Images
Simply white with a brown bronze glaze. And of course custom mixed Richies brown for the bar area
This turned out awesome!! New lighting, new counters, changed the wall color to SW Anew Gray, cabinets are SW Snowbound with a light glaze of SW Anew Gray to pull it together. Island is finished in SW Tricorn Black.
Complete brand new look and feel! SW Torque White. Clients are very happy and it was an absolute pleasure to work with!
SW snowbound and mocha brown makes for a bright farmhouse look and feel! New lighting with LED cans really brightens things up
Another Great Project! SW Torque White with Mocha Brown on the bar
SW Torque White and SW Tricorn Black
SW Torque White with frame out on the island finished in SW Tricorn Black. Fireplace finished in Tricorn Black. Stairs finished in Mocha Brown. All bathrooms done in Mocha Brown
All Tricorn Black for this high rise in Chase Park Plasa
Torque White with Tricorn Black. Trimmed out the island to make it pop!
Torque White with Tricorn Black
Torque white with Gauntlet Gray for the island. Trimmed out with crown and bead board
Torque white makes for a cool blend for gray accents (before & after images)
Alabaster and Tricorn Black
SW Torque White, new crown molding, bead board on the island and New LED can lighting to brighten it up
Snowbound and Stone Granite Gray. All new hood and crown makes for a great update on this kitchen
White Kitchen (Before & After)
This kitchen was finished in Satin Black with a rubbed distressed edge:
This kitchen was finished in a medium brown Cherry with an upper and lower trim package:
Full trim package colored medium dark walnut:
More Before & after images:
The Best Option for Kitchen Cabinets St. Louis
Your cabinets are an essential part of your kitchen remodel. They're also available in a wide range of styles, finishes, and sizes.
When considering a kitchen remodel, the first impulse is to visit local stores and shop for new cabinetry. With the variety of finishes and styles available, this can be a tempting way to go especially under the influence of a clever showroom sales person.
We believe there is a better way.
Why Consider Kitchen Cabinet Refinishing St. Louis
New cabinets are commonly constructed of laminate material that is a fabricated material, and the frame is oftentimes particle board or a soft wood, or is otherwise assembled witih staples or glue… The bottom line: new cabinets do not withstand the test of time like vintage cabinetry has proven.
With the cabinets you have in your home, very likely you have hardwood frames. Soft wood and particle board frames can swell from water damage and moisture commonly found in kitchens.
Hardwood, on the other hand, is resistant to constant wear and tear. Cabinets are such a large investment that it makes sense to go with the best option and refinish what you have, restoring the natural beauty with the finish you have always wanted!
The best wood to use for cabinet frames include maple, oak, cherry, poplar, alder, ash or mahogany. Wood is naturally beautiful and adds warmth and aesthetics for your kitchen or bath. The price you pay for quality wood cabinets is considerably less than the priciest brands, but you still get what you pay for.
Refinishing your existing cabinets allows you to retain the quality of vintage cabinetry while not only updating the look to today's trending aesthetics, but refinished to the highest professional standards. That's what you get with kitchen cabinet refinishing in St. Louis with Richie's Refinishing. 
New Cabinets vs. Professional Kitchen Cabinet Refinishing
Choosing the right cabinets can be a tedious process, but that's why we're here. We will present you with two kinds of kitchen cabinets – new and traditional.
Let us first consider new cabinets. They are usually made of stainless steel and glass combined with oak hardwood or walnut . They are very trendy and have a powerful modern appeal. However, they are not the most affordable option and may go out of style in a few years. Let's now see why people invest in traditional kitchen cabinets. These are often made of wood or wood veneers and tend to last longer than other models. As for aesthetics, traditional kitchens are timeless and may appeal more to Period French, Mediterranean, Tudor, and Georgian style homes.
Traditional kitchen cabinets, on the other hand, often tend to be made with oak wood very frequently it as well will add a classic style to the interior.
Kitchen Cabinet Refinishing Services: the Case for Quality AND Economy
Kitchens seem to be changing that makes kitchen cabinets different nowadays and the overall definition appears to be more expansive than it ever has been before. If you walk into a kitchen showroom, you'll see that there are new or long-lost trends that people want incorporated into their kitchen.
New kitchen cabinets are built with the aim of functional economy and appealing visual design. 
New kitchen cabinets can boost a kitchen's appearance and offer a variety of stylish options.  
With a plethora of new kitchen cabinets on offer, this has never been a good time to be a "sacrificial shopper"; you get to choose cabinetry that suits both your lifestyle and mood.
Kitchen cabinets are an essential investment that are worth spending your money on carefully. If you order them online, do your own research into the best shapes and color to go with your own kitchen design.
Budget cabinetry in a range of visually appealing models; a variety of sizes and colors and finishes.
Get inspired by interior decorating magazines, websites, and television shows.
Kitchen Refinishing St. Louis
Kitchen refinishing is the best option when it comes to updating the look of your kitchen. With custom finishes, you can achieve the exact aesthetic you want, whether it's a modern or traditional style.
In addition, the build quality of existing cabinets is often superior to new cabinets, as they are made from hardwood frames that are resistant to constant wear and tear.
By refinishing your existing cabinets, you can restore the natural beauty of the wood and add warmth and aesthetics to your kitchen or bath.
Plus, matching the aesthetic of your home is easy when you work with professional kitchen cabinet refinishing services, like Richie's Refinishing in St. Louis.
By choosing to refinish your cabinets, you can save money and achieve a high-quality, custom look that will last for years to come.